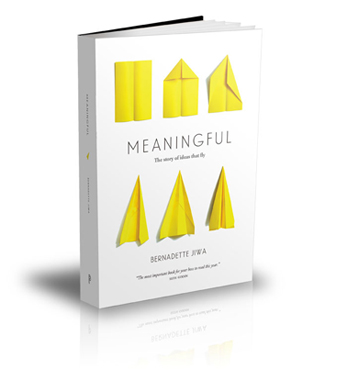 "This book and the Story Strategy Blueprint are invaluable for anyone who wants to disrupt their industry and to know and genuinely matter to their customers.
Bernadette's unique views and teachings will give you the most important, empathetic tools to know the consumer and be a successful. "

ANTONIO ZEA
—Global Director, Football Footwear, UNDER ARMOUR
Our new digital landscape has spawned an entrepreneurial culture and the belief that anyone with a laptop and an Internet connection has the power to change the world—to create an idea that flies. But for every groundbreaking business that started this way, a thousand others have stalled or failed. Why? What's the secret to success? What do Khan Academy, the GoPro camera, the Dyson vacuum cleaner and Kickstarter have in common?
Every business that flies starts not with the best idea, the biggest budget or better marketing, but with the story of someone who wants to do something—and can't.
We don't change the world by starting with our brilliant ideas, our dreams; we change the world by helping others to live their dreams. The story of ideas that fly is the story of the people who embrace them, love them, adopt them, care about them and share them. Successful ideas are the ones that become meaningful to others—helping them to see what's possible for them.
Our ideas fly when we show others their wings.
Featured as one of Inc Magazine's Best Business Books of 2015
Recommended by Ken Norton, Partner at Google Ventures as
Essential Reading For Product Managers
---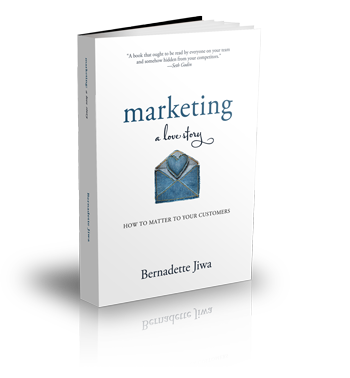 "Bernadette's back, and just in time. This is her finest work, a book that ought to be read by everyone on your team, and somehow hidden from your competitors."

SETH GODIN
—Author of All Marketers Tell Stories
One of the biggest challenges we face as entrepreneurs and innovators is understanding how to communicate the value or our products and services to people in the marketplace. Marketing has become a necessary evil for every business, but what if we adopted a different view of it?
What if marketing was less about promotion or coercion and more about reaching out to people and helping them to solve problems?
What if marketing was how we found more ways to do better work and to matter to our customers?
What if marketing was where we began our journey towards understanding what people need and want?

Featured by LinkedIn as one of the 20 books every marketer should read.
---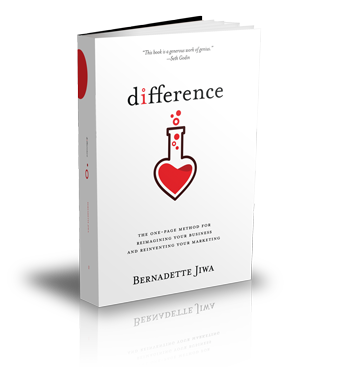 "An inspiring read and a truly powerful tool. Bernadette is a rare find – she doesn't just know what she's talking about, she's not afraid to stand for why it matters."

JONATHAN RAYMOND
—CMO EMyth
Marketing is not a department — it's the story of how you create difference for your customers.
Difference lifts the lid on how brands like Airbnb, Uber and Apple have succeeded by creating difference and gives you a new one-page method for reimagining your business and reinventing your marketing. Learn how to recognise opportunities that create value and to develop products and services that people love.
"This book is a generous work of genius. The Difference Map is now an essential component for anyone who is serious about doing work that matters, and Bernadette Jiwa is the bright new star to lead us there."

SETH GODIN
—Author of All Marketers Tell Stories
---
"This should be the next book you read. Urgent, leveraged and useful, it will change your business like nothing else."

SETH GODIN
—Author The Icarus Deception
It's not how good you are. It's how well you tell your story.
The most successful brands in the world don't behave like commodities and neither should you. A great brand story will make you stand out, increase brand awareness, create customer loyalty and power profits. Isn't it time you gave your customers a story to tell? The Fortune Cookie Principle will show you how.
"I so wish I had read book two years ago. It would have saved me a lot of money, time and anguish. I can't rate the book highly enough. Calling it an eye opener doesn't do it justice."

K.CASTLE
—Amazon.co.uk
---
"A little book with a very big message.
Your idea is worth a great story, well told."

SETH GODIN
— Author of All Marketers Tell Stories
The path to success is littered with great ideas poorly marketed. Don't let yours be one of them.
Make Your Idea Matter is a call to action for entrepreneurs, emerging brands & anyone with a great idea, who knows that to stand out in today's noisy world they need to tell a better story.
"I've read both of Bernadette Jiwa's books in two days they are both that epically awesome! Don't shower or shave etc, just read. Now."

KEVIN HUDSON