Unlock the Magic in Your Story Now
Get the Free 20 questions to Ask Before Launching Your Idea workbook when you sign up for occasional updates.
Get the Free 20 questions to Ask Before Launching Your Idea workbook when you sign up for occasional updates.
Don't Change Your Pitch, Understand Their Story
filed in Marketing, Storytelling, Strategy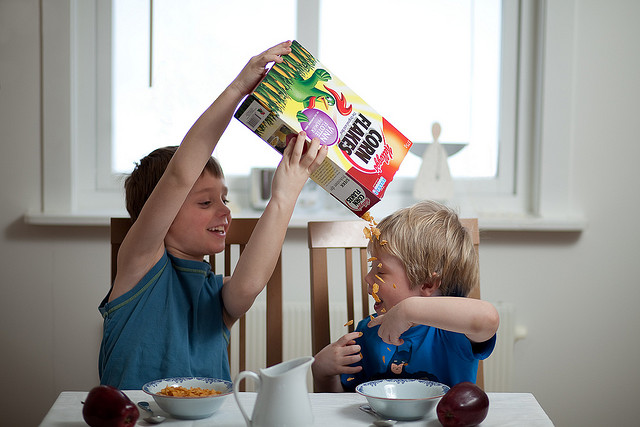 Back in the days of stay-at-home Mums and morning newspaper deliveries, a memorable tagline on the box (or a coveted toy inside), was enough of a sales pitch to sell us a ton of breakfast cereal. Frosted Flakes were Grrreat because Tony the Tiger said so. And if Neil Armstrong, Buzz Aldrin and Michael Collins ate Kellogg's during their Apollo 11 trip to the moon, then it must be good enough for us too.
Forty years ago consumers didn't obsess about what the label said was inside the box. In a post-depression world we were just glad to be able to put food on the table and to outsource some of our decision-making. We trusted corporations to know best and do the right thing by us. But times have changed and when an established company like Kellogg announces that they have reduced salt levels in Corn Flakes and Rice Bubbles in Australia by 20% in 2012, which translates to a reduction in salt levels of up to 59% across their cereals. We can't help but question more and trust less.
Sales of breakfast cereals are declining. We have fallen out of love with carbs and more in love with protein and a bowl of cereal is no longer healthy or convenient enough for savvy, time poor consumers. We are taking our health into our own hands. What we once believed has changed and that's impacted what we do and what we buy. So when the customer story changes what's a business to do?
Breakfast cereal manufacturers are attempting to change the sales pitch for cereal. They are adding protein to flakes of corn and creating breakfast bars and drinks that we can consume on-the-go. The packaging and the copy (to position cereal as a late night snack food, not just breakfast), are being modified but for the most part the nutritional composition is the same. The sales pitch is changing, but the story of cereal is no different from the one W.K. Kellogg told in 1906.
In an increasingly competitive marketplace, it's not enough to change the pitch to suit the trend of the moment without changing your story. Because if your customers don't believe what your company believes, then they can't and won't 'buy in' to that story.
Real change, innovation and market disruption in any business doesn't begin in the boardroom, innovation lab or with the ad agency. Nor does it come from focusing on the competition. It starts with what your customers believe—with their story. And when your story aligns with their worldview that's when the magic happens.
Image by Jo Christian Oterhals.