Unlock the Magic in Your Story Now
Get the Free 20 questions to Ask Before Launching Your Idea workbook when you sign up for updates.
Get the Free 20 questions to Ask Before Launching Your Idea workbook when you sign up for updates.
Who Will You Impact?
filed in Storytelling, Strategy, Success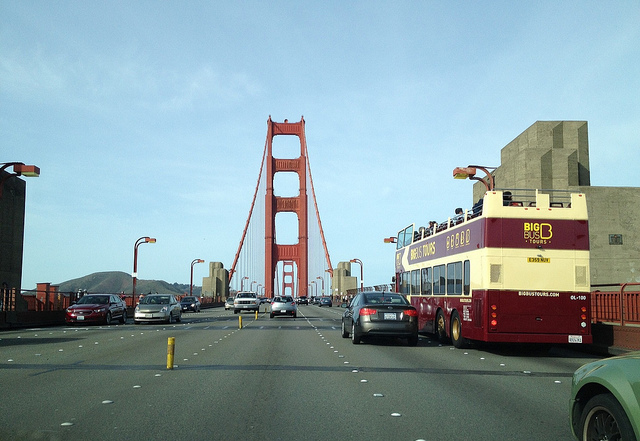 The bus headed back over the Golden Gate Bridge as we neared the end of our tour of Sausalito. The driver pulled over at the second last stop and turned off the ignition so that he could 'address his guests'. Then Dwayne Johnson (the man who had the name before the celebrity who made it famous), stood facing us, looking out towards the iconic bridge in the background.
He explained that he loved the city he had called home for almost sixty years. He told us he regarded his job as both a pleasure and a privilege. And then he began to evangelise about the stunning monument we'd just driven across.
'This bridge will be the standard for every bridge that will ever be built,' he said. 'They say Disneyland is magical. No, this bridge is magical. Even guys take selfies on this bridge.'
Dwayne explained that although it was a cold day, we were in San Francisco at a beautiful time to experience it. On foggy days much of the bridge is obscured from view. He told us that he drives across it every day, but he walks across it at the weekend whenever he can. And then he invited us to get off the bus and do the same, even though we didn't have to because the bus was going back across it anyway.
'Maybe you think it's too cold or you'll do it next time. But you don't know if you'll be back. And one day, when you get home, and you're showing the photos of your trip to friends they will ask you if you walked across the bridge. Your trip will be defined by that.'
Then Dwayne stood back and gave us a moment to decide. Half of the passengers (many of whom would have left a tip in the tip jar on the dashboard at the end of the trip), left the bus to walk across the magnificent Golden Gate Bridge, as our guide got back in his seat and turned the ignition.
Dwayne Johnson doesn't own Big Bus Tours. But he does own the power he has to touch people's lives every day. Who will you impact today?
Image by 305 Seahill
Share this article