Unlock the Magic in Your Story Now
Get the Free 20 questions to Ask Before Launching Your Idea workbook when you sign up for occasional updates.
Get the Free 20 questions to Ask Before Launching Your Idea workbook when you sign up for occasional updates.
Who Is Responsible For Seeing Your Customers?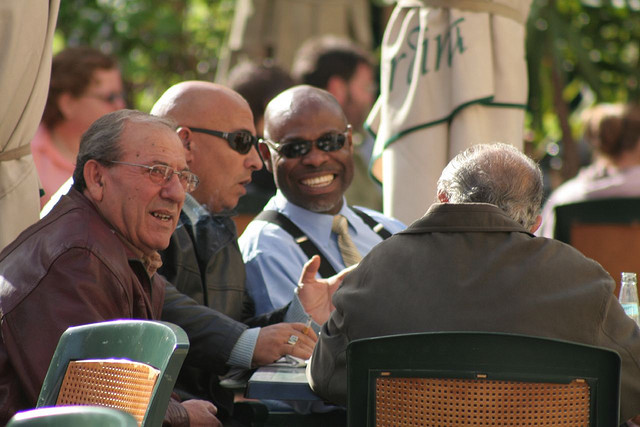 When I worked in the stock control department at Tesco thirty years ago, I was partly responsible for making sure there were enough tins of soup available to be bought by the customers who would walk up and down those supermarket aisles the following week. There were people in charge of making sure that shelves were full and others to process customers efficiently through checkouts. There was a girl who manned the customer service counter. Her job it seemed was to offer practiced and polite responses to disgruntled customers along with their refunds.
Later, when I managed a cafe the boss told me that I was responsible for opening the door at 7am, for making sure that we had enough staff on duty and that the till wasn't short at the end of the day. There was a girl in charge of buttering bread and cutting up lemon meringue pies into exactly twelve slices and someone to take pound notes from customers for the afternoon tea and cake special during that dead period after 3pm.
Customers came, were served, spent and went. In both businesses there were metrics for efficiency—boxes to be ticked that had implications on balance sheets. If the store didn't run out of tins of Campbell's tomato soup, the register balanced and sales trended up, apparently you won.
But there were no metrics around the most important job of all—that of seeing the customer.
Nobody at Tesco was obliged to care about the old lady who couldn't reach the tins on the high shelf. We were not supposed to notice how she did a mental calculation of the contents of her basket before she got to the checkout to save being embarrassed if she was short by a few pence.
And as long as the twelve pieces of pie at the cafe were sold by closing time it didn't matter who had bought and paid for them. Never mind that each piece represented a student at the university across the road eking out his grant on the afternoon special, or a young mother sheltering from a downpour with her crying baby.
When we offer service, by definition the minimum requirement is that we are useful to people. But how can we truly serve people if we don't know who they are? How can we give them what they want if we don't make the effort to see them?
The businesses that have been runaway successes over the past three decades (since I gave up counting tins for Tesco), are the ones that have taken the time to really see their customers and then to design metrics around serving them based on what they see. The Zappos, Apples (from Geniuses to engineers) and Patagonias of this world make someone responsible for seeing, not just serving their customers. Who is responsible for seeing yours?
Image by John Haslam.